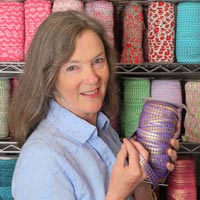 Elastic by the Yard started the way many "home businesses" began - at the dining room table. After the birth of Kristin's second daughter, She - like many moms who leave the workforce to stay home - She found herself looking for something structured that she could accomplish each day to keep her mind active. After seeing moms dying elastic in their washing machines, she knew there had to be a better way. So - with just three colors of skinny elastic and an empty dining room table - "Elastic by the Yard" was born.

Six months later, she had outgrown her dining room (and eventually she had to sleep!), so she hired another mom to help her out. She continued to grow from there, and after 9 months, she moved to a picturesque barn down a dirt road (you should see the sunsets!). And started employing several moms in her small town, allowing them to work close to home.

She always loved business, and never dreamed this would turn into something that would not only help provide for her family without taking her away from her kids, but also allow her to make that a reality for the moms who work at EBTY and to help hundreds of other entrepreneurial crafty moms out there. If you're one of them and you're new to EBTY, drop us a line and let us know your story.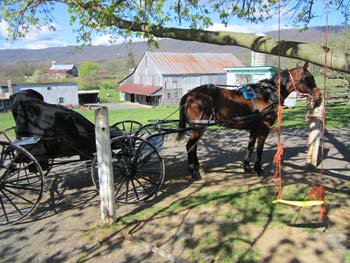 In March 2015 "Elastic By The Yard" moved to Pennsylvania! We're located in the small town of Shippensburg. Many of our neighbors are Amish and drive by in their buggies.
Thank you for supporting "Elastic By The Yard" over the years!
We value each of you "our customers" as our friends!
Site Security:
Secure Shopping thru PayPal Merchant Services.
You can shop at ElasticByTheYard.com online with confidence. We have partnered with PayPal Merchant Services, a leading payment gateway and merchant provider, to offer safe and secure credit card and electronic check transactions for our customers.
The PayPal Merchant Services Gateway manages the complex routing of sensitive customer information through the credit card and electronic check processing networks. The company adheres to strict industry standards for payment processing, including:
128-bit Secure Sockets Layer (SSL) technology for secure Internet Protocol (IP) transactions.

Industry leading encryption hardware and software methods and security protocols to protect customer information.

Compliance with the Payment Card Industry (PCI) Data Security Standard.


WE DO NOT STORE OR SEE ANY CREDIT CARD INFORMATION! Great, right? Our credit card processor receives your encrypted card information. We don't see it or store it!
Note: We never give or sell your personal or contact information to any other entities.